Hugh Johnson, the preeminent wine writer of our time, now brings to his fans around the world his first major new book in a decade: this stylish, intimate, and delightfully opinionated autobiographical tour through the world of wine. A Life Uncorked weaves Johnson's wide-ranging ruminations, memories, and observations on his remarkable life together with information on every aspect of wine--from its technical production to its cultural significance. In luminous, utterly engaging prose, he taps into his enormous experience to consider topics such as tasting, cellaring, choosing, understanding, comparing, and buying wine, as well as wine's more ephemeral and personal pleasures, lures, and mysteries.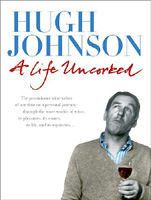 At the heart of A Life Uncorked is the idea that wine is more than a drink; its characteristics link it directly to memory, to locations around the world where grapes are grown and wine is made, and to the dining rooms, restaurants, bars, and gardens where we consume it. Johnson takes us to all of these places and many more in this delightful and revelatory memoir. Peppered with anecdotes throughout, A Life Uncorked simultaneously educates and entertains with its absorbing perspective on the complex and fascinating world of wine from one of its most well-known and well-liked aficionados.
About the Author
Hugh Johnson, widely regarded as the world's foremost wine writer, is known to millions through his internationally best-selling wine books, including his annual Pocket Wine Book, The World Atlas of Wine, Wine, The Story of Wine, and How to Enjoy Your Wine. A highly respected editor and broadcaster, Johnson has been president of the Sunday Times Wine Club since 1973 and of the Circle of Wine Writers since 1997. He has appeared in several television series. Johnson was the first wine editor of Vogue and is an editorial advisor to The World of Fine Wine. Johnson, who is also passionate about gardening and trees, is author of The International Book of Trees and Principles of Gardening: The Practice of the Gardener's Art. For thirty years, he has written the monthly Tradescant's Diary column for The Garden magazine.