Untrodden Grapes by Ralph Steadman
by Brad Prescott
From Chile to California, South Africa to Alsace, Ralph Steadman has seen the best of the world's wine-producing regions. On a search for the unique and original, he meets Aurelio Montes, the Chilean winemaker who planted syrah vines on a rocky, south-facing hill in order to "steal the wild complexity of the mountain's soul." In Spain, he learns of the white chalky soil called albariza that produces the sherry of the Jerez region. In California, the author describes crossing the Golden Gate Bridge, driving up into Marin County, and meeting enthusiastic winemakers whose vineyards sit precariously on the San Andreas fault. As the journey continues on through Burgundy, Champagne, and Sicily, Steadman brings the landscape and its people to life with pictures and prose.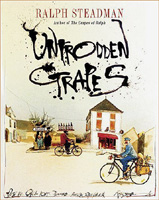 About the Author
Ralph Steadman has illustrated many books, including Hunter S. Thompson's Fear and Loathing in Las Vegas and the fiftieth-anniversary edition of George Orwell's Animal Farm. He is the author of The Grapes of Ralph (for which he won a Glenfiddich Food & Drink Award), Still Life with Bottle, The Book of Jones, and Gonzo. He lives in England.
For more than 25 years, The California Wine Club founders Bruce and Pam Boring have explored all corners of California's wine country to find award-winning, handcrafted wine to share with the world. Each month, the club features a different small family winery and hand selects two of their best wines for members.
Tags: