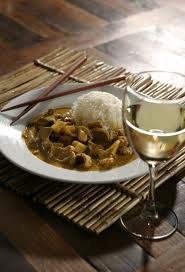 I had the pleasure of having my sister-in-law visit my wife and I yesterday, and generally whenever we have someone over to the house, I take the opportunity to cook a nice meal.  Unfortunately, the primary reason for my sister-in-law's visit was not actually to see my wife or I, but rather our new 3 month old daughter…and food was not top of mind.  Additionally, the afore mentioned daughter isn't the greatest of sleepers, I was exhausted, and didn't really feel like cooking anyway.  So….we ended up ordering Thai food.
Now, while I was too tired to cook, I'm rarely too tired to drink, so I scrambled over to peruse my wine cabinet.  Generally, I'd call myself a red wine drinker, and while I'm picky about quality, I'm happy with just about any varietal.  However, with Thai (and most other Southeast Asian food), I've had a really tough time finding a red wine that compliments the food.   Typically, the heat in Thai food, doesn't really jive well with the tannin in red wines.  And I also find the longer finish in most reds is a bit unsuited to the sweet sauces I frequently find in Thai food.  So, pretty much all my go to wines were out.
What I ended up reaching for was a Riesling.  Rieslings, a white wine, is very common in Germany and the Alsace regions of France, but are also increasingly made in the cooler climates in "the new world".  There are a few reasons what Rieslings make such a great match with Thai food:
First, because the grapes are grown in cooler climates, the wine typically has a good amount of acid that can cut through the sweet sauces that are common in Thai food.
Second, Rieslings have a nice fruitiness to them, and sometimes a bit of residual sugar, making them slightly sweet.  That sweetness is an excellent complement to the heat that frequently comes with Thai food.  Remember, in cooking and in wine pairing, sweet and heat go well together.
Finally, Rieslings, like many white wines, usually have floral and fruit notes in the bouquet and finish.  Thai food, with its exotic spices, and fruits like coconut, mango and papaya can help bring out those flavors in the wine, and vice versa.
I happened to grab a bottle of 2009 Kalinda Rheingau Riesling Qba, which I thought was a great match.  And it's very reasonably priced at about $12/bucks a bottle.  This wine is medium bodied, with some very nice floral and fruity notes.  And while not a sweet wine, that fact that it is fruit forward with a touch of sweetness, it does provide a nice counter balance to a medium spiced dish.  If you end up with the "extra spicy" dish, you might want to go a touch sweeter. 
Dave is the founder/owner of the web site NoRecipeRequired.com, a site which is dedicated to showing the fundamental techniques and strategies that home cooks can use to make great meals.