Napa lays claim to Cabernet Sauvignon like they invented it. Certainly they are dominant region where it's grown in the U.S., but Paso Robles is positioning itself to give Napa a run for its money and this central California region is producing Cabernet and Bordeaux blends offering incredible value and diversity, something Napa has strayed from.
"There is something about the Napa Valley's unique topography, climate and growing season that is perfectly suited to Cabernet," says Ann Colgin of Napa's highly regarded Colgin Estate, whose Cabernets sell for $300. "While Napa Valley wines can be expensive, there is no substitute for the pedigree of fruit this region is capable of producing," she says. And that is the conventional wisdom of many Cabernet lovers – that the pedigree, the history and provenance are with Napa. But true wisdom dictates that conventional wisdom, of necessity, must evolve. And the times, as they say, are a' changing.
"If you want to know how good Paso Robles Cabernet is," suggests, Gary Eberle of the multi-award winning Eberle Winery, "have a blind tasting of Napa Cabernets and a Paso Robles Cabernet. We may not always come out on top, but we can compete against Bordeaux and Napa first growths," he says. And this is the precise reason that the Paso Robles Cabernet Collective (PRCC) was born. You might equate the warm Paso climate with Zinfandel, more so than Cabernet. But consider this: The Paso Robles wine region is 614,000 acres with over 40 varietals in the ground. Plantings by percentage are Zinfandel at 9%, Syrah and Rhone varietals at 17%, and Cabernet Sauvignon and Bordeaux varieties at a whopping 55%. And with a shorter learning curve than Napa, Paso is exerting itself. The newly formed PRCC is now flexing its Cabernet muscle with a "CABs of Distinction" grand tasting, a consumer-focused event for Cabernet lovers.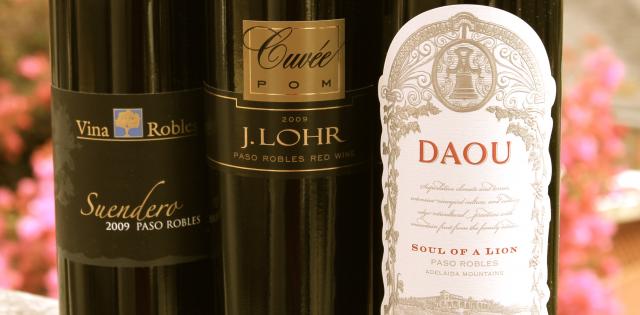 But can Paso Cabernet compete in an already crowded field? "Consumers can expect wines that are approachable immediately but yet will age beautifully well for years," says Daniel Daou of Daou Vineyards, one of the lead wineries. "An indication of a great terroir is where ripeness can be achieved most if not all the time. In Paso Robles we achieve ripeness consistently from year to year and our wines come from soils that are calcareous, so they don't have to be acidulated," Daou says. "Napa and other great regions in the world cannot boast these incredible advantages," he says. That's a pretty bold claim but ultimately age-worthy Cabernet is about ripeness and balance. "It's normal for Paso to see huge diurnal temperature swings of 40 to 50 degrees during the growing season and that's great for the development of flavors and balanced acidity," says Michael Mooney of Chateau Margene, adding that there are 45 different soil series and 13 different micro-climates allowing for a price-point diversity. Whereas Napa ain't cheap anymore, Paso offers value.
A few examples to consider: Justin Winery is well-known for their high-end Isosceles, but they also produce a 2010 Cabernet Sauvignon ($25) that reflects what's best about inexpensive Cab from Paso: moderately bright fruit with a back note of earth and smoke, while the J. Lohr Cuvee Pom (a Merlot dominate blend at $50) reflects an earthy dust quality with mild tannins and black berry fruit. Vina Robles' 2009 Suendero (a blend of Cab and Petit Verdot, $49) is deeply rustic with blackberry fruit. And you have the voluptuous Daou Vineyard Soul of a Lion, a high-end Bordeaux blend at $100 and the Chateau Margene 2009 Cabernet Reserve ($52) both of which prove that the tight refined structure of classic Cabernet is being made in Paso. Across the board these wines showcase a livelier fruit profile, much better with food while still being balanced with mild tannins.
"I can tell you that we have barely seen the top of the iceberg in terms of quality for what is coming out of this appellation," says Mooney. Certainly the national wine press has been kind to Paso's Cabernets but the question remains will Paso Robles ultimately define itself with Cabernet as a flagship wine? Chances are good that a kind of "Napa South" will emerge and that Paso will break free from the current attempts to link it to Napa as a Cabernet cousin. Daniel Daou sums it up best: "Let me be 100 percent clear - I believe that Paso is the ultimate appellation for growing Cabernet Sauvignon but we need a little time to reach our potential. Changes in the vineyards as well as willingness for many more wineries to push the envelope in creating a higher end product will show the potential of this terroir in the next few years." Apparently Paso is planning on a new pedigree.
There's one way to find out if Daou is correct. Head to the PRCC Cabs of Distinction event on Saturday, April 27. Winemakers will be on hand as well as music and artisanal food purveyors. There will be the obligatory winemaker dinners hosted in key Paso Robles restaurants on Friday, April 26, with a Who's Who of the best Paso area restaurants including Thomas Hill Organics, Robert's, Paso Terra, Il Cortile, Bistro Laurent, and McPhee's. www.pasoroblescab.com