IntoWine.com asked our panel of wine experts their recommendation for one Chilean wine worth seeking out (but which won't break the bank):
Occasionally, a wine region reveals a level of promise that speaks to every kind of wine consumer. Today, that wine region is Chile. Forged from several mountainous valleys along the southwest coast of South America, Chile has seen a renaissance in its agricultural heritage with wine. Several producers are harnessing the unique climate and dramatic terroir (mountains, valleys, proximity to the ocean) to make world class wines. One of the most impressive varieties to date has been Syrah. A noted survivor in extreme conditions, Syrah has found a home, if not a palace, in Chile.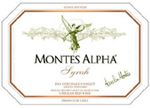 One wine in particular worth trying is the 2006 Montes Alpha Series Syrah. Harvested from a low yield vineyard on the Apalta Valley slopes, this Syrah comes with added punch. A 7% Cabernet Sauvignon and 3% Viognier addition in the final blend establishes this wine's firm tannins with elegance, supported by waves of blueberries, cassis, flowers, and leather. Made for drinking young, this wine could also age well over the next few years. (About $20) – Ben Spencer is a diploma student with the Wine & Spirit Education Trust and an IntoWine Featured Writer.
----------------------------------------------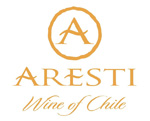 If you look for the number one wine in the Wine Spectator's Top 100 Wines, I doubt you'll find it, even though it is from Chile; it will be sold out by now. But what a great comeback, to be voted #1, perhaps the comeback of the decade. Chile has had a bad rap for a few years but they seem to be pulling out nicely. It is a rut that Australia is struggling to overcome, the fact that so much cheap swill is made there that it overshadows the reputation that it once had as one of the finest wine producing regions in the world. Luckily, Chile never had the other problem which now plagues Australia, that, on the other end of the market, Aussies make too many ridiculously over-alcoholic drinks that give you headaches just looking at the labels. It leaves their elegant old fashioned producers, some of whom still make delicious and restrained wines, wallowing in no man's land. Australia needs to rediscover itself. Put a ban on the export of cheap wine and a ban on the export of wine over 14% alcohol and, voila, they'll have restored their world image. So, Chile has the edge on Australia. The main reason that Chile can make a comeback on the world stage and overcome the reputation of cheap wine is that on the other end of their spectrum they actually still export predominantly more balanced, moderate, reserved and elegant wines. Do I have a particular recommendation? Well, normally several, but the economy's collapse makes it an opportune time to recommend a wallet friendly one, which, for full disclosure's sake, we import, called Aresti. A family owned business who make perfectly acceptable wines for around $12-$14 a bottle. - Bartholomew Broadbent, CEO, Broadbent Selections, San Francisco
----------------------------------------------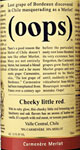 (Oops). No that's not a typo, that's the name of this 2007 Carmenère/Merlot blend from the Valle Central area of Chile. With a Beaujolais style nose, soft and jammy, full of pomegranate, dark cherry and blackberry and just a twinge of sweet mocha, this blend opens up to boat loads of fruit with an even tannic structure that doesn't overwhelm the palette. The 70 percent Carmenère finesses the merlot and the result is a soft, easy drinking wine that will appeals to most wine fiends. This is not a staggering heavy handed wine. It's an even and mild one with a present but not in-your-face oak component (40 % was aged in new American and French barrels for eight months). Is got a mild finish and like an old friend, there's no tricks, no surprises, just a great wine. Plus, it's probably a grape many people aren't familiar with and, even though its origin are from Bordeaux, Chile has laid claim to it. I drink this wine and I immediately crave cheese, not some fancy Brie or aged hard cheese, but Tillamook, good old fashioned cheddar. Plus (Oops) it's a mere twelve bucks. - Michael Cervin, Wine Judge, Restaurant Critic, and IntoWine Featured Writer
----------------------------------------------

No doubt that Chile produces an exemplary range of wines that represent great value and are worth seeking out. However the wines from Matetic Vineyards deserve special consideration. Located in the Rosario Valley approximately 100km west of Santiago, the Matetic family has committed to working all 90 hectares of vineyard without the use of chemical fertilizers or pesticides. The domaine produces several tiers of wine, however a cuvee that I particularly enjoy is their Syrah. The 2006 Matetic EQ Syrah displays great balance, providing beautiful dark fruit berry notes, along with subtle hints of violets, cracked pepper and mineral. - Mulan Chan, Rhône and French Regional Buyer, K&L Wine Merchants
----------------------------------------------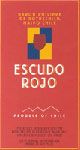 I will be honest; I don't drink a lot of Chilean wines. I have a few high end wines that garnered lots of attention from the wine press, but I have been less enthralled. For my money, I would not recommend those. That said there are plenty of great value wines that I would recommend. I am going to give the nod to Escudo Rojo. This is a Bordeaux style blend of Cabernet Sauvignon, Merlot and Cabernet Franc. It is made by the Chilean operations of Baron Philippe de Rothschild of Chateau Mouton fame in Bordeaux France. For around $15 or less, this is a complex wine that drinks well on purchase and will be good for 5 to 10 years in a cool cellar. It should be good on its own or with hearty dishes. It seems to be consistent from vintage to vintage. At that price, it is excellent for parties of just dinner at home. - Loren Sonkin is an IntoWine.com Featured Contributor and the Founder/Winemaker at Sonkin Cellars.
----------------------------------------------
Chile is often known for its Carmenere wines, but the country is also producing some fantastic Cabernet Sauvignon wines that can compete with the top California ones.  The Sierra Batuco Cabernet Sauvignon from the Central Valley in Chile has all the ideal Cabernet qualities – notes of ripe cherries and blackcurrants as well as subtle notes of spice and mineral.  This Chilean wine is well-balanced, smooth and perfect for pairing with meat dishes, including lamb and grilled steak. - Leah Ramella, Wine Consultant, MyWinesDirect.com