What is Cognac? A History of this Most Famous French Brandy
The origin of Cognac dates back to the 16th century when Dutch settlers came to this French region to purchase salt, wood, and wine. However, the journey back home made preserving the wine difficult and they needed to find a better way to conserve it. They started by distilling the wine into eau-de-vie, which was a good solution for preservation, but eventually they realized a second distillation made for an even finer, more elegant and pleasant product. This is essentially the birth of brandy. In fact, the word "brandy" comes from the Dutch word "brandewijn" which means burnt wine.

Brandy is made all over the world, but only brandy made in the Cognac region of France, and under the strictest guidelines, can be called "Cognac." The Cognac region stretches over two regions in western France, Charente-Maritime (bordering the Atlantic Ocean) and Charente (a little further inland). There are six crus (or growth areas) designated for producing Cognac. Listed in descending order of ageing potential and quality, they are as follows: Grand Champagne, Petite Champagne, Borderies, Fins Bois, Bons Bois, and Bois Ordinaires.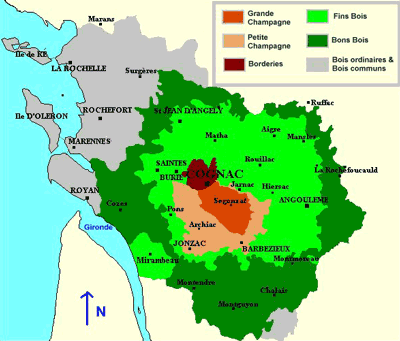 Each region is a different AOC that produces Cognac of varying characteristics and ageing potentials. The term "Fine Champagne" is an AOC that refers to a Cognac composed of Grande and Petite Champagne eaux-de-vie, with at least 50% Grande Champagne.

Even within the defined region, if a Cognac is produced that fails to meet any of the strict criteria set down by the BNIC—Bureau National Interprofessionel du Cognac—it may not be called Cognac.
For example, according to regulations the Cognac must be aged for at least 30 months in French oak coming primarily from the Limousin and Tronçais forrests in central France. It must be obtained through double distillation in traditional copper Charentais stills. The producers may only distil between November 1st and March 31st following the harvest. And of course the wine used must come from specific white grape varieties.
Ugni Blanc is the principal varietal in modern Cognac. Prior to the Phylloxera crisis of the 1870s that affected the whole of Europe, Folle Blanche was the dominant variety for Cognac. After the crisis, the vineyards of the Cognac region were replanted with Ugni Blanc mainly for its high acidity levels, discreet aromas, and resistance to infection. To this day Ugni Blanc remains the dominant variety as it is usually 95% of the blend, the rest made up with Folle Blanche and Colombard. Despite the fact that Folle Blanche is more temperate and difficult to maintain some producers are aspiring to replant their vineyards with majority Folle Blanche and return to the older style of Cognac.


For more than 25 years, The California Wine Club founders Bruce and Pam Boring have explored all corners of California's wine country to find award-winning, handcrafted wine to share with the world. Each month, the club features a different small family winery and hand selects two of their best wines for members.
Tags: