A construction guide for home wine cellars based on the science of deep soil temperatures. Invokes modern readily available materials and standard construction techniques. Ideal for the do-it-yourselfer or hired carpenter.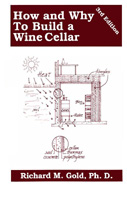 Also reviews wine purchasing and consuming strategies, bin design and construction, how to organize a wine tasting group, and more. An underground classic, first published in 1983. Revised third edition. Over 24,000 copies in circulation. The only serious treatment of the subject.
About the Author
Dr. Gold's academic training is in biological psychology. PhD University of Chicago. Retired Professor, University of Massachusetts. Over 50 published articles and chapters in Psychology. As an avid amateur enophile and amateur carpenter, he sought a book to guide him through the design and construction of a home wine cellar, but found none. He gathered scientific information on the physics of deep soil temperatures and applied it,using current building styles and materials, to home wine cellar construction. A very specialized but pragmatic do-it-yourself guide.