The Quotable Wine Lover by Kate Fiduccia
by Brad Prescott
Here is a comprehensive collection of the world's best words on wine.
"I'm like old wine. They don't bring me out very often, but I'm well preserved." Rose Kennedy
"Quickly, bring me a beaker of wine, so that I may wet my mind and say something clever." Aristophanes
"To buy very good wine nowadays requires only money. To serve it to your guests is a sign of fatigue." William F. Buckley
"Never, never trust anyone who asks for white wine. It means they're phonies." Bette Davis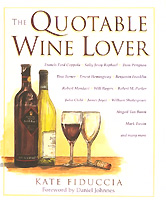 This collection of over 400 quotes from those of poets and writers to contemporary chefs, sommeliers, and celebrities wittily explores the essence of the world's oldest libation. Included are the words of: Robert Mondavi, W. C. Fields, Robert Lewis Stevenson, Jim Morrison, George Washington, Richard Branson, Jay McInerney, Margaret Thatcher, Calvin Klein, Edith Wharton, Charles Dickens, Omar Khayyam, Pope John XXIII, Bertolt Brecht, Henry David Thoreau, Ernest Gallo, Martha Stewart, Mark Twain, Ovid, Samuel Johnson, William Shakespeare, And more. This book will provide hours of enjoyment for any wine lover. It is the perfect gift.
About the Editor
Kate Fiduccia is a graduate of the Cornell University Hotel School, where she majored in food and beverage management. She has a cooking television segment on the Woods n' Water TV series called "Going Wild in Kate's Kitchen" and a wild-game cooking column in Outdoorsman's Edge and Journal America.
For more than 25 years, The California Wine Club founders Bruce and Pam Boring have explored all corners of California's wine country to find award-winning, handcrafted wine to share with the world. Each month, the club features a different small family winery and hand selects two of their best wines for members.
Tags: