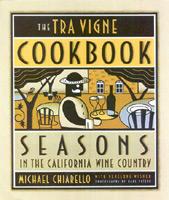 Michael Chiarello, Penelope Wisner (Contributor), Karl Petzke (Photographer)
Description
From The Publisher:
People the world over come to California's wine country for a taste of the good life. They find it in abundance at Napa Valley's celebrated Tra Vigne restaurant (the name is Italian or "among the vines"), where an enchanting vineyard setting and chef Michael Chiarello's robust Italian dishes make for an unforgettable dining experience. Now, Chiarello takes readers behind the scenes at the restaurant, sharing recipes and reminiscences inspired by his years at Tra Vigne and the good Italian cooking of his family. Season by Season at Tra Vigne celebrates the natural beauty and abundance of the Napa Valley with a passionate gastronomic journey through the changing seasons. In addition to seasonal delights like roasted asparagus, lemon-braised artichokes, and pumpkin polenta, home cooks will discover the secrets for Tra Vigne classics such as herb gnocchi with braised lamb shanks and wild mushrooms, crunchy fritto misto with tomato vinegar, rich and crumbly Italian holiday cookies, and a decadent chocolate tiramis. With lush photographs and a strikingly contemporary design, Season by Season at Tra Vigne is a must-have cookbook this fall.


About the Authors
Michael Chiarello is the chef-owner of the acclaimed Tra Vigne restaurant in the Napa Valley. He is the author of two best-selling cookbooks, Flavored Vinegars and Flavored Oils, and produces his own line of gourmet foods under the brand name Consorzio. Penelope Wisner is a San Francisco writer specializing in food and wine. She worked with Michael Chiarello on Flavored Vinegars and Flavored Oils. Karl Petzke is a San Francisco-based photographer and the coauthor, with Sara Slavin, of Espresso.