Official Guide to Wine Snobbery
by Brad Prescott
Hailed as the most entertaining reference to wine culture, this book arms readers with valuable knowledge of wine etiquette, while identifying those senseless acts of snobbery that often lead to embrassing situations.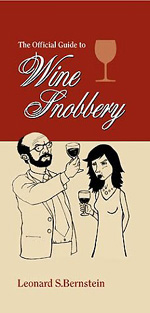 About the Author
Leonard S. Bernstein's work includes a collection of poetry, short stories and numerous articles for the New York Times, the Village Voice and several other publications. He currently resides in Westbury, New York.
For more than 25 years, The California Wine Club founders Bruce and Pam Boring have explored all corners of California's wine country to find award-winning, handcrafted wine to share with the world. Each month, the club features a different small family winery and hand selects two of their best wines for members.
Tags: