This essential and groundbreaking reference gives a comprehensive overview of one of the most fascinating, important, and controversial trends in the world of wine: the scientific and technological innovations that are now influencing how grapes are grown and how wine is made.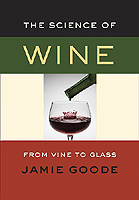 Jamie Goode, a widely respected authority on wine science, details the key scientific developments relating to viticulture and enology, explains the practical application of science to techniques that are used around the world, and explores how these issues are affecting the quality, flavor, and perception of wine. The only complete resource available on the subject, The Science of Wine: From Vine to Glass engagingly discusses a wide range of topics including terroir, biodynamics, the production of "natural" or manipulation-free wines, the potential effect of climate change on grape growing, the health benefits of wine, and much more.
Covers some of the most hotly debated issues including genetically modified grape vines, sulphur dioxide, the future of cork, and wine flavor chemistry
More than 100 illustrations and photographs make even the most complex topics clear, straightforward, and easy to understand
Engagingly written for a wide audience of students, winemakers, wine professionals, and general readers interested in the science of wine
About the Author
Jamie Goode, a member of the UK Circle of Wine Writers and a former scientific editor, is wine writer for the Sunday Express, wine columnist with The Western Mail, and a regular contributor to Harpers, Decanter, and Wine International. In 2000 he established the consumer-oriented website www.wineanorak.com, one of the world's most visited wine sites. He is a finalist for the Louis Roederer Award for International Wine Writer 2005.