Wine of The Week – Vina Robles 2016 Rosé - 90 Points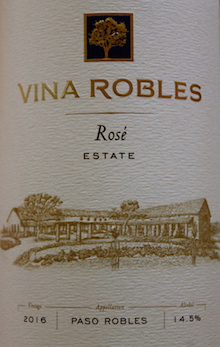 A rosé by any other name is merely a pink wine. Rosé is not an easy thing to make in spite of the abundance of them that clutter store shelves. Frankly, most of them are generic and tedious. But hailing from Paso Robles, a location known for big extracted wines, come a lithe yet deftly bold rosé. This blend of 96% Syrah and 4% Viognier is a classic dry example of a California rosé that gets it right. Filled with notes of strawberry, black cherry, lemon-lime, rhubarb, plum and peach it has an earthiness - a dark fruit sensibility - without being one-dimensional. A mild acidity and minerality round it out. After crushing the grapes went directly into stainless steel tanks for several hours to extract color. You'll notice this is not a pale-hued dusty rose-colored wine. It is vibrant; copper and salmon colored and no, you can't judge a wine solely by its color, as this rosé will defy expectations. What it offers is expressive California fruit with a restraint to make it a hearty rosé amenable with a diversity of foods, and a perfect summer sipper.
Average Price: $16/ 750ML
Alcohol: 14.5%
Pair With: Garlic and rosemary grilled lamb chops; Artichoke risotto with lemon zest; Balsamic and roasted beet salad.
Availability: Moderate/1,424 cases
Website: www.VinaRobles.com
VINEBOX is a monthly wine-by-the-glass membership club. Members receive a curated box containing three glasses of wine from all around the world. Each shipment also contains tasting notes, pairing suggestions and some fun facts about where the wine came from. Explore new regions, learn about taste preferences, and get ready to find a few favorite wines with VINEBOX.