Best South African Red Wines (for the Money)
South Africa is making sports headlines as teams scramble to qualify for the 2010 FIFA World Cup, which will be held next June in Africa's southernmost country. South Africa's wines, too, are back in the news. For example, Market Watch reporter Kevin Barry describes wines from South Africa as "offering good value" and says that the South African wine market is "poised for substantial growth in the U.S. market."
South African red wines have long been known for their good value. Pinotage, the well-known red wine grape created in South Africa, is just one of many red wine grape varieties that does well here. Other popular red wine grape varieties include shiraz, merlot, cabernet sauvignon and pinot noir. According to Wines of South Africa, which represents South African wine producers and exporters, approximately 45 percent of South African vineyards are planted in red wine grapes.
IntoWine.com recently asked some experts on South African wines to recommend their best-value red wine favorites. Here's what they had to say: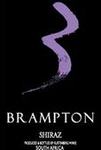 Across the board South African Shiraz has impressed me in recent blind tastings far more than comparably priced wine from Australia. The 2007 Brampton Shiraz ($15) has smoky fruit galore, with an engaging cedary red berry aroma. Ripe, lush and edgy its long juicy finish is New World all the way, with no discernible French inspiration. An all purpose beautifully balanced wine that will work wonders with roast chicken as well as grilled salmon and tuna. - Sandy Block, Master of Wine, Legal Sea Foods, Boston, MA
----------------------------------------------------------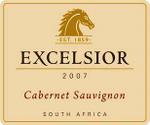 One of the leading best-value reds available here is the Excelsior Cabernet Sauvignon 2007 that sells for $10 per 750 ml bottle and is 90% Cabernet Sauvignon, 8% Shiraz and 2% Petit Verdot. This delicious, crowd-pleasing Cabernet offers tremendous bang for the buck! It's packed with lip smacking flavors of blackcurrant, black cherry, and plum with subtle hints of dark chocolate and smoke. Perfect for parties and for everyday sipping, this tasty bargain is a home run with grilled meats, pizza, and hearty pasta dishes. - Peter de Wet, Excelsior Estate, courtesy of Cape Classics wine importers, New York, NY
----------------------------------------------------------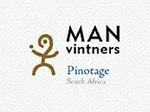 We share quarterly wine picks from the DesBarres Manor Inn cellar and South African wines have made it to our picks list three times in the past couple years as they are excellent value wines. The MAN Vintners Pinotage ($10 - $12) from South Africa is a great value for relaxed winter dinners. This easy drinking Pinotage would be fabulous with a Friday night pizza of goat's cheese, chicken and vegetables or a simple roast lamb dinner with a fresh mint sauce and garlic smashed potatoes. Bold and juicy, you'll find lots of red cherry and plum, pepper and spice and a touch of minerality that leads to a medium finish. - Audrey Firth, Wine Director, DesBarres Manor Inn, Guysborough, Nova Scotia, Canada