Best Merlot Recommendation (For the Money)
"I Saw Mommy Kissing Santa Claus... and Santa Was Holding a Glass of Cabernet."

Give a Purple Bottle Club gift membership to your loved ones, friends, boss, or clients this year.
IntoWine asked a panel of wine experts for their best Merlot recommendation taking cost into consideration:
Great Merlots from Napa Valley easily run $50 to $75 and higher. The best value recommendations for Merlots that I've rated 92 points or higher in the last couple years—the only two that can be found for under $30—are the '09 Fields Family from Napa Valley's Oak Knoll Distric (92+ points, averages $26) and a delicious, complex Merlot from Slovenia, the 2008 Batič (92+ points; $29).

Among Merlots I've rated 90 to 91+ points in the last couple years, the best values are Merryvale's Starmont (averages $24, 91 points), Frostwatch Bennett Valley ($28, 91+ points), Waterbrook Reserve Columbia Valley, Washington ($23, 90 points), Field Stone Alexander Valley ($17, 90 points), and Wildhurst Reserve Lake County ($15, 90+ points). Richard Jennings, IntoWine.com Featured Contributor and the Founder RJonWine.com.
------------------------------------------------------
Say what you will about the movie Sideways but the film weeded out the bad and expensive California Merlot on the market. In fact, it made the entire state reconsider the grape. The 2006 Mandolin Merlot Central Coast didn't budge. Sourced from the Central Coast's Hames Valley AVA vineyards where the air is cool and the days are long, the grapes develop an ideal balance between fruit and acidity. Rarely does a $10 dollar wine outperform a $50 dollar bottle, but thanks to an intelligent combination of stainless steel fermintation and oak aging, the Mandolin Merlot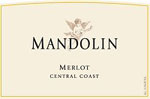 integrates the spice and vanilla of oak in a very minimal way. The result pounds many of the wimpy Merlots found in prestigious vineyards of other California Appellations. Pronounced aromas of bing cherry, chocolate mint and tobacco lead to flavors full of red currants, goji berries, eucalyptus and cacao. I think what Miles meant to say was, "I don't drink bad Merlot." Luckily the Mandolin Merlot is not one of them. - Michael Whitehead, IntoWine Featured Writer
------------------------------------------------------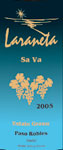 Ever since the movie Sideways slammed merlot, the once noble grape has been reduced to a punch line over a punch down. But merlot, slowly on the rise again is, and has always been, a great grape. Case in point, the Laraneta Vineyards Sa Va, ($26) a 100 percent merlot from Paso Robles. This is a first vintage for Laraneta, and this wine will cause you to re-think drinking merlot. Black cherry, mocha, cedar, sage and a white pepper note, plus the integration of oak, fruit and tannins will have you making nice with merlot and apologizing for ignoring it. And this version is soft and plush enough to go with a variety of foods. At 26 bucks, you'll be stunned at the quality in your glass. - Michael Cervin, Wine Judge, Restaurant Critic, and IntoWine Featured Writer
------------------------------------------------------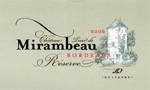 Like the scrawny bespectacled kid who can't catch a football, Merlot seems to be the prime object of bullying these days. Maybe it was the infamous "I'm not drinking any f***ing Merlot" rant in Sideways, maybe it was the industry folks who got tired of camera-wielding, Hawaiian print shirt-wearing tourists asking for "merlotte," in twangy accents, or maybe it's just the preponderance of insipid, over-cropped, canned green vegetable tasting Merlots that plague the market. But Merlot doesn't have to be wretched; in fact, many can be quite magical. Nobody is going to accuse Chateau Pétrus of tasting like green beans. But you don't have to shell out your life's savings to get a right bank Merlot that encapsulates all of the beauty that the grape is capable of. The Despagne family owns a number of properties in Bordeaux, and their Chateau Tour de Mirambeau Bordeaux Supérieur, made from 70% Merlot grapes (the remainder is Cabernet) grown just outside of Libourne is a bargain at $12.99/bottle. The wine exhibits a smooth, supple mouthfeel with notes of plum, dark fruits and cedar. It's soft enough to pair with lighter meats such as pork or chicken, and reaches its apex matched with roasted duck breast with cherry sauce. But you don't have to be a master chef to enjoy Chateau Tour de Mirambeau. This is one wine that can just as easily be enjoyed on its own. - Kareasa Wilkins, Wine Consultant for Weimax Wines & Spirits in Burlingame, CA and an IntoWine Featured Writer